Talks every monday 7:00 PM CST
Unlock Your Full Potential: Join The Transformative Mindset Workshop
Embark on a journey of personal growth and development with expert coaching, practical strategies, and a focus on cultivating a powerful mindset.
- Expert group coaching with a personal touch
- Weekly group Zoom calls for learning and growing together
- Mental models course on the fundamentals of human progress
- Strategies for developing a success-oriented mindset
- Interactive chat rooms for support, inspiration, and collaboration



In the mindset workshop, we take a holistic approach to personal development, emphasizing the cultivation of a powerful mindset that drives productivity, decision-making, and continuous growth. By joining our program, you'll gain access to: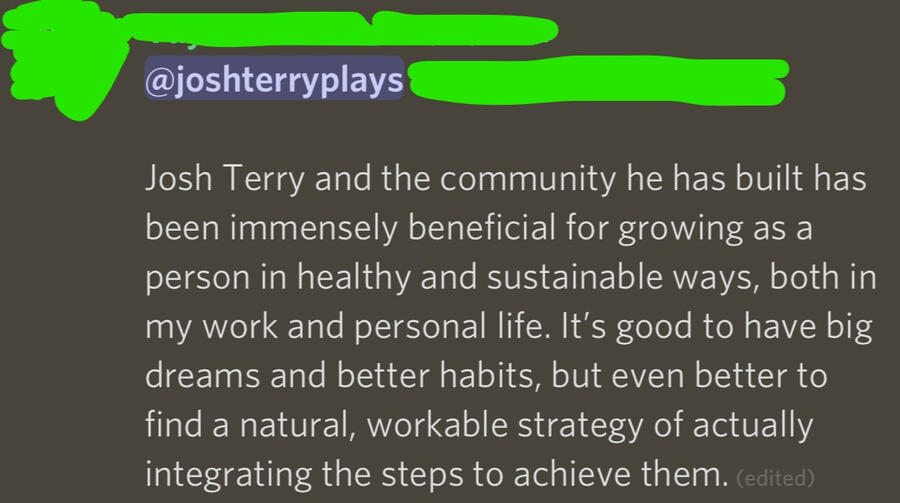 1. Weekly Group Zoom Calls: Every Monday at 7 pm CST, I introduce a concept, teach it, and answer questions about it. Some of the topics we've covered include:- The fundamentals of human development
- Archetypes
- How to reduce overwhelm
- How to face your fears
- Procrastination
- Discipline vs. Desire
- Manifestation
- State change
- The two fundamental frameworks of religion
- The six human needs
- The two basic motivators
- Chaos & Order
- How to be more creative
- Balancing creativity and productivity without sacrificing freedom
- How to deal with failure
- How to focus on what really matters
...and much more.2. Member-Led Discussions: Most Thursdays at 7 PM Central Time, join in on group calls led by other community members to recap, chat, and dive deeper into the ideas discussed on Monday.3. In-Depth Course: Explore my course on the fundamentals of human progress, Mental Models, based on the short book I wrote. The course provides detailed explanations and exercises to support your personal growth journey.4. Interactive Chat Rooms: Engage with our diverse community of go-getters, including business owners, artists, content creators, investors, web developers, and more. Share your experiences, ask questions, and support each other on your self-improvement journey.5. Ongoing Support and Accountability: Feel free to tag me in the chatrooms anytime, and I'll answer your questions and provide coaching on the calls.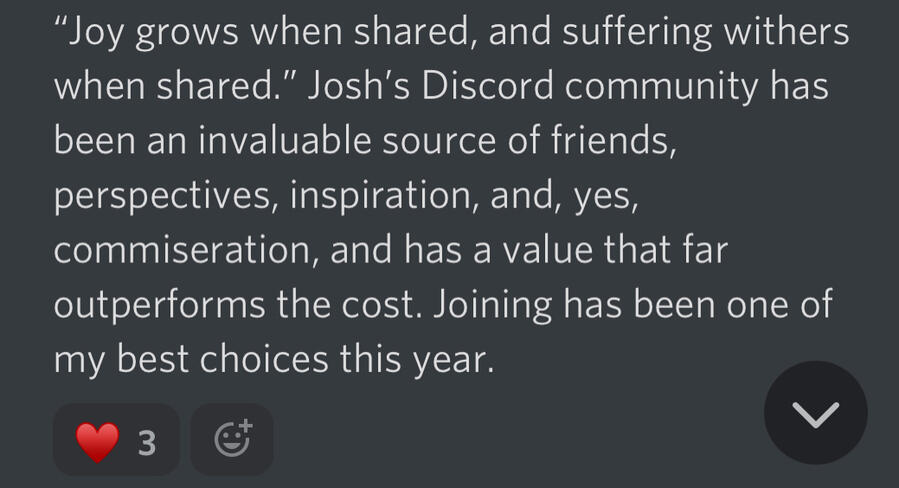 "I found Josh Terry when I was at a critical point in my physical and mental health. His non-traditional approach to performance coaching has helped me improve in many different aspects of life. From social dynamics to entrepreneurial ventures, Josh has shifted many of my mental frameworks and allowed me to execute in an abundant mindset.With his help, I was able to 7x my income, reduce my spending, and enhance my lifestyle as my social media presence scaled over the past year and a half.He's connected me with high-level individuals and solved pretty much every problem I've thrown at him. This guy is the real deal."-Jack Neel (@fyp on TikTok)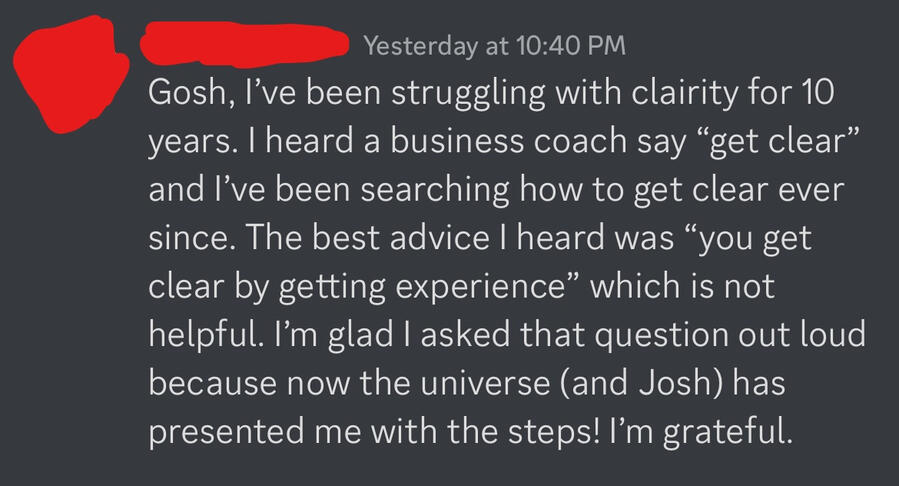 FAQ
Q What is the format of the workshop and community sessions?A The workshop includes weekly expert-led Zoom calls, featuring concept teachings and Q&A sessions. Community-led calls and chatrooms provide additional opportunities for discussion and collaboration.Q What if I cannot attend the live sessions? Are there recordings available if I can't make the Monday night calls?A Yes, all Zoom calls are recorded and available to members. You can watch the recordings and access the full backlog of workshops at your convenience.Q How much time should I expect to commit each week?A The Monday calls are generally an hour to an hour and fifteen minutes. Additionally, there are community-led calls on Thursdays that are about an hour, and you may want to spend some time engaging with other members in the chatrooms. Everything else on your terms though, take advantage of as much or as little as you'd like based on what works for your schedule.Q Do I need any prior knowledge or experience to join the workshop and community?A No, this is a self-paced workshop designed to help you develop from wherever you are in your personal growth journey.Q How much does it cost to join the workshop and community?
This is an opportunity for you to take control of your life, develop a powerful mindset, and achieve the personal growth you've always desired. Join the mindset workshop today and start experiencing real-life results.
---
© Josh Terry 2022. All rights reserved.